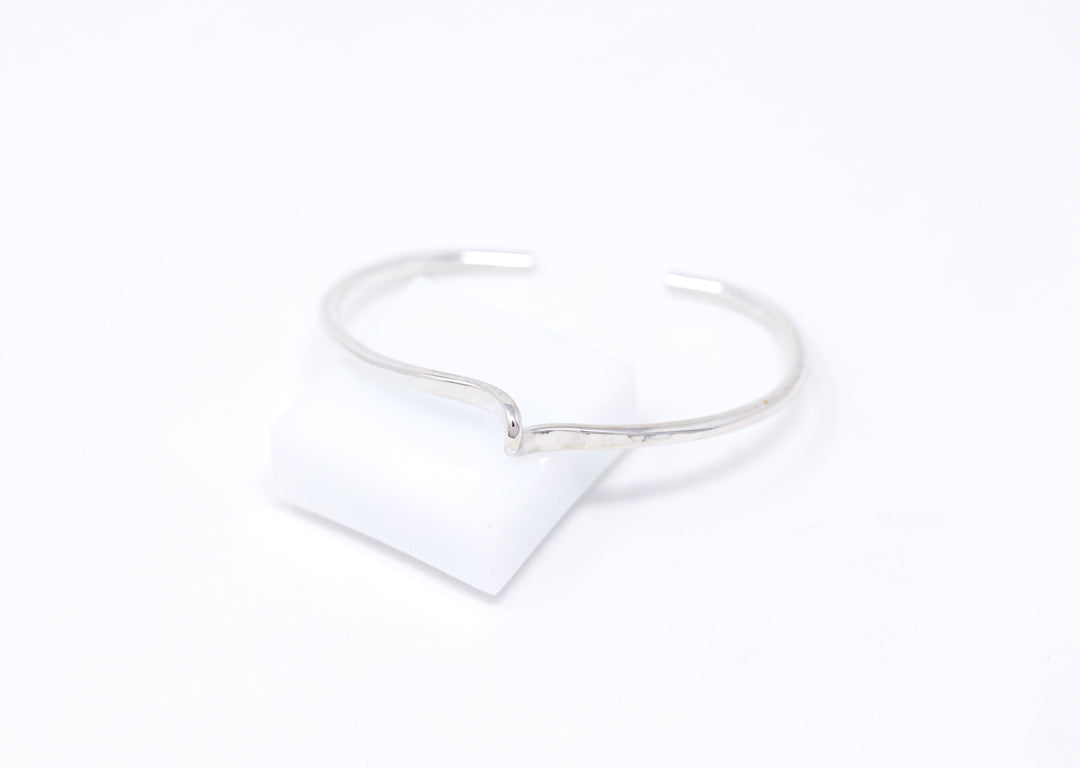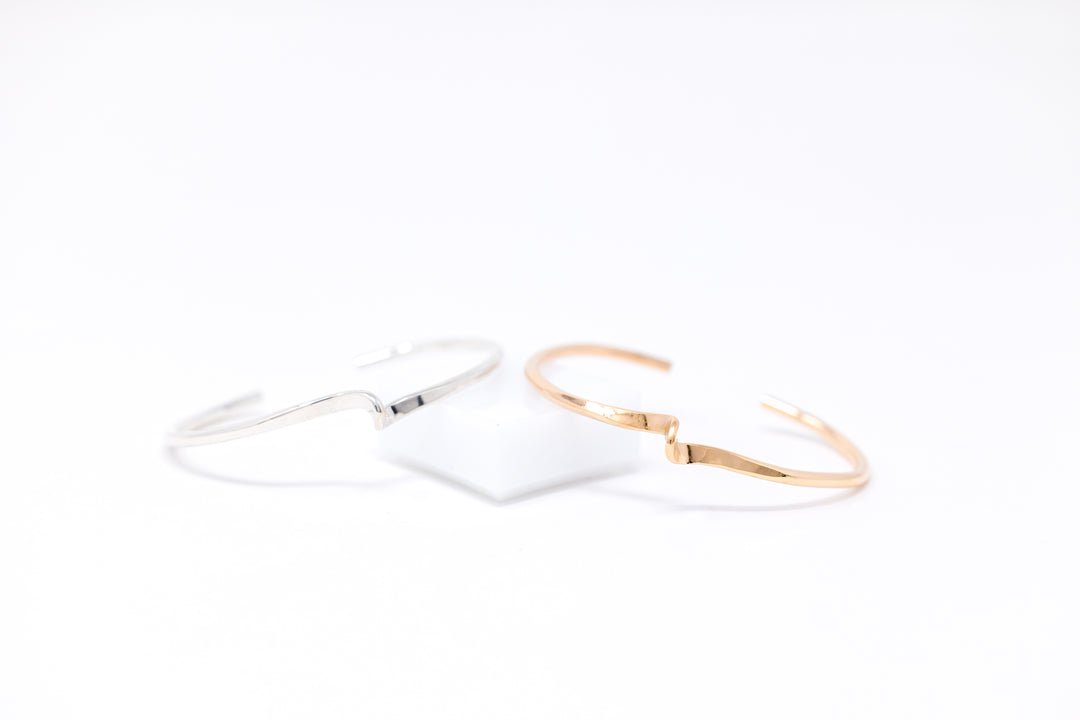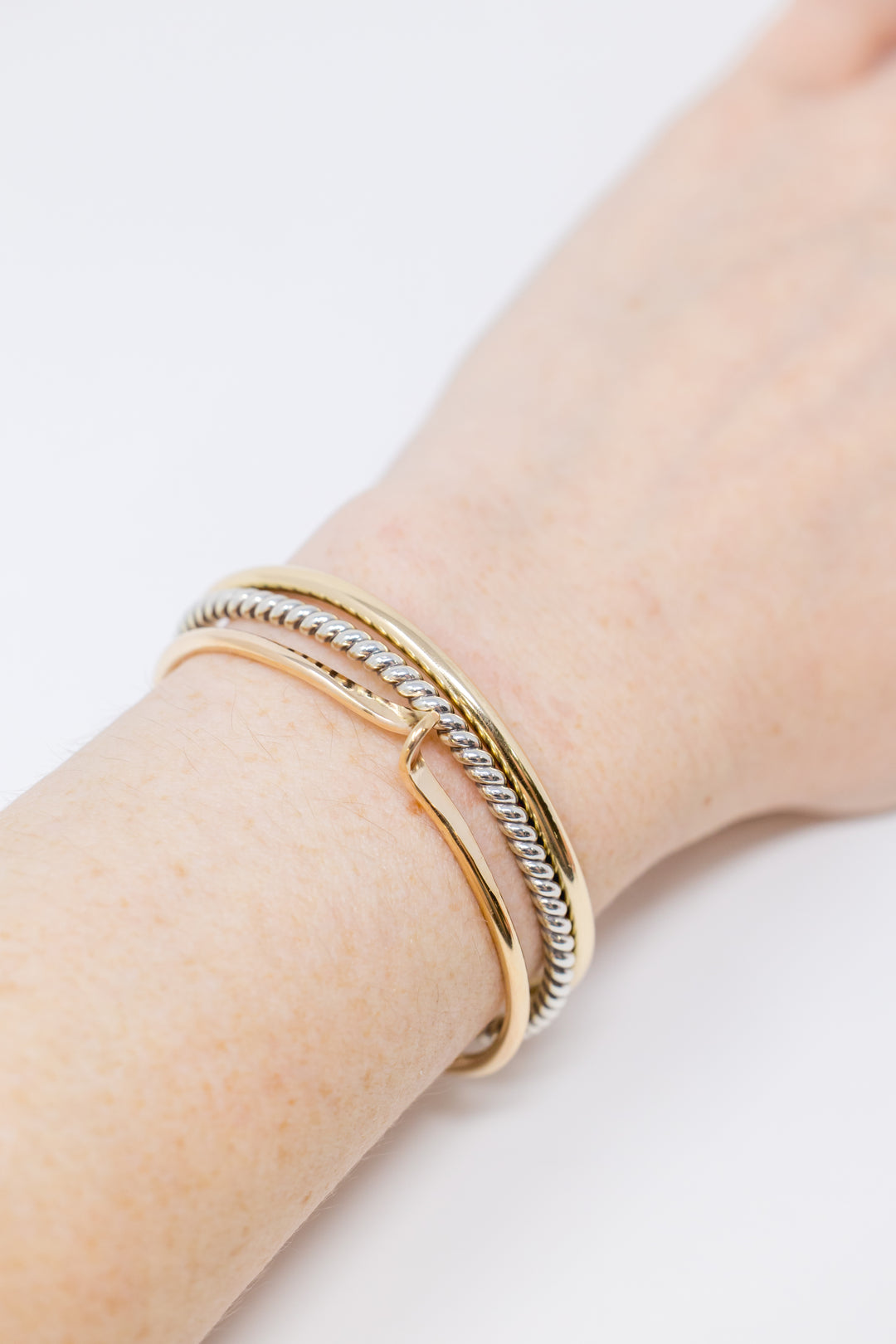 Summit Silver Bangle Cuff Bracelet
---
Low stock - 1 item left

Inventory on the way
Free Shipping On Orders Over $150 or Free Local Pick Up in Lexington, Kentucky
The Summit Silver Bangle Cuff Bracelet is the perfect bracelet to start with or add to your stack. The twist in the middle creates a little extra pattern to your stack Each bracelet is hand-cut and handcrafted. (CHECK SIZING INSTRUCTIONS BELOW)
*Non engraved orders may take up to 2-4 business days before shipping. Orders, including engraved jewelry items may take up to 3-5 business days. 
MOST COMMONLY ASKED QUESTIONS
1. What material is this bangle made of? .940 Sterling Silver, no plating
2. How do I choose the right size bangle? Bracelets are made in an oval shape to fit your wrists. They are slightly adjustable, but make sure to follow the instructions below to pick the correct size. 
BUYING FOR YOURSELF: Take a string and wrap it below your wrist bone. Measure the string with a tape measure and choose that exact size. If you are in the middle of a size, go up to the next size and not down. If you forget your size from a previous purchase, I can look it up for you.
BUYING FOR A GIFT: A size 6.5" Medium is the most common bangle bracelet size. It is not recommended that adults choose children-size bangles as they will be too small. If someone is petite, go with the adult small.
EXCHANGES: If a bangle does not fit, please leave the tag on and do not wear it. Reach out, and I will help you choose your correct size. A small fee for going up to a larger size or a refund may be given depending on the size exchange. Engraved bangles are non-refundable, so please make sure to pick the correct size. Non-engraved bangles must be returned within 14 days.
3. What size and thickness is the wire? It is a round wire 2.59mm thick with a twist in the middle. This bangle is hand cut and shaped to fit your wrist size. (SEE SIZING INSTRUCTIONS ABOVE). 
4. Can I wear my bangles every day? Yes, it is recommended to wear your bangles every day and to not remove them. The more you take them on and off, the more you risk misshaping them. You can shower, sleep, work out, and live life in your bangle every day. That being said, I would not wear them in or around harsh chemicals such as chlorine, bleach, etc., as that can tarnish or damage your precious metals, making them brittle over time. I include instructions on how to take care of and remove your bangle properly with each order.
5. Can you Engrave this bangle? No, unfortunately, due to its design, this bangle is non-engraveable. 
6. How long does it take to ship or pick up my order? Non-engraved bangles may take up to 2-4 business days before shipping. Orders, including engraved bangles, may take up to 3-5 business days. 
7. Does this bangle come in similar styles? Yes, the Summit Bangle comes in Sterling Silver and Gold Filled 
8. How do I take care of my bracelet? A polishing cloth is the best way to remove tarnish and grime from your bangle that can build up over time, bringing back the shine to your bangle. For everyday cleaning, I would use blue dish dawn soap. Scratches and dents cannot be removed. 
9. What is included in my purchase? Each purchase includes your purchased items in a cotton Anna Shae Jewelry Bag. If you need additional bags for your order (gifts for multiple people). Please specify in the note at checkout. 
10. Can you engrave previously purchased pieces? Unfortunately, the engraving machine that I have only allows you to only engrave flat pieces or metal, which means already purchased pieces are in a shaped form and will not be able to be engraved. If you engrave on a non-smooth surface, your engraving will be distorted. 
11. What if an item is out of stock or I need to place a large order? Typically, I have plenty of material in stock. Mostly what you see on the site is what I have already made. Feel free to reach out, and I will update quantities or give you an update on when it will be back in stock. It typically just takes about a week to get things back in stock for large orders such as bridesmaid gifts etc. Please reach out to me at least three weeks in advance to prepare your large order. 
All packages sent out USPS First Class Package in 1-3 business days unless other shipping options are chosen.
Shipping Policy
What is your production turnaround? All of our handmade pieces are made to order and take time to create. See each product page to see the current turnaround time. This time is subject to change for higher volume orders. Shipping time is added to production time. 
What is the estimated shipping time? US orders that are shipped may take up to 1-10 business days to arrive via USPS First Class Package. A tracking number will be provided once shipped. Faster shipping options are available. 
How will I know my order has been shipped? You will receive a tracking number via email once your item(s) have been shipped.